I think we all made some type of New Year's Resolution back in January; it seems like only yesterday, but somewhere down the road, maybe late January or early February, we took a wrong turn and ended up not on the path we initially planned. I'm here to hold up that warning sign, and yell, "HEY! YOU'RE GOING THE WRONG WAY!" In hopes, to show, you that it's not too late, to continue your goal or goals, for 2008. Here are my tips, to help you find the right road and finish your journey.
Getting Back on Track
-
by Zpower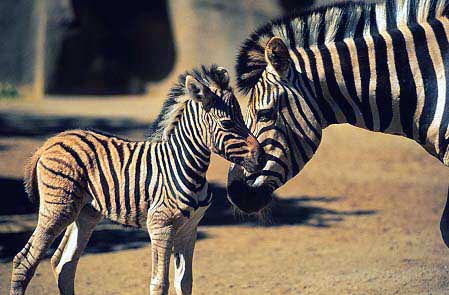 Like this baby zebra, on it's journey, to one day be like it's mother, you will also need, to take one step at a time, to accomplish your goals.
Step-1. Re-evaluate your goals.
-Ask yourself, "Are my goals actually obtainable in 10 months or less?" Once you have analyzed or re-evaluated your goals, precede with step 2.
Step-2. Ask yourself this question, "Why did I fail, stop trying, or just didn't bother, to attempt my initial goal, in the first place?"
- Find out why you didn't keep, on track with your goal, from the time you made it, January 2008, up until now.
Step-3. Plan a strategy
- Brainstorm ideas, of how you can make small steps, to accomplish your goal(s). -Research information about your goal(s) from the library, friends, online resources, and etc. Take all the information you learn, and use it, to come up with a logical approach, to start your goal(s) once again.
Step-4. Adapt
- We all know that any strategy is not set, in stone, for you must be wiling, to evaluate your pace, of success or in some cases no success. Meaning, when things do not go the way you think they should based, on your strategy you set up, you should adapt your strategy, to better accommodate your needs, to successfully complete your goal(s).
Step-5. Patience
- Slow and steady wins the race. As the old saying goes, "Rome wasn't built in a day." So, too should you remember that your results will take time. Never start a goal and expect results over-night. Always give yourself enough time, to adequately support your goal. If you do not, then only your goal will suffer; and, ultimately you will not get the results you expected.
Step-6. Keep working
- Hard work is a key ingredient, in majority, of worthwhile goals. If you fail, to give the adequate work required, to achieve your goal, then, like before, only your goal will suffer; and, again you will not get the results you expected.
Step-7. Accomplish your goal
- If your goal was actually obtainable, and you realized how you went wrong, in the early parts of January and late February. If you researched to gain more knowledge about your goal, and you created a new plan of attack. If you adapted your strategy, of attack, to better accommodate your needs, and you had patience, to endure the hardships that come with any journey, to accomplish a goal. And if you never gave up and kept working hard, then you now have accomplished or can say that you tried your best, to accomplish your goal.
I hope this thread has or will help someone, in the future, to accomplish a New Year's Resolution or just a goal that you want or have wanted, to obtain, in your life. Whether you want to make all As in school, lose weight, go to college, become a better teacher, be a better writer, become a singer, actor, professional athlete, start your own businesses, or whatever the goal, with these general steps, I've made, you can get, on the right path and finally end your journey, of accomplishing your goal(s).
You have 10 more months left; it's time for you, to get back, on track, like the baby zebra, in the image above,
one step at a time
.